Registrar Registry Manager
marko
View other files from this member
Submitted: Jul 11 2010 07:32 PM
Last Updated: Jul 18 2012 01:09 PM
File Size: 4.64MB
Views: 1337
Downloads: 49
Will Run On: 2000/7 x32/7 x64/Other/Server/Vista/Vista x64/XP/Other
Author's Site: Developers Homepage
License: Info Not Available
Registrar Registry Manager 7.03
1 Votes
0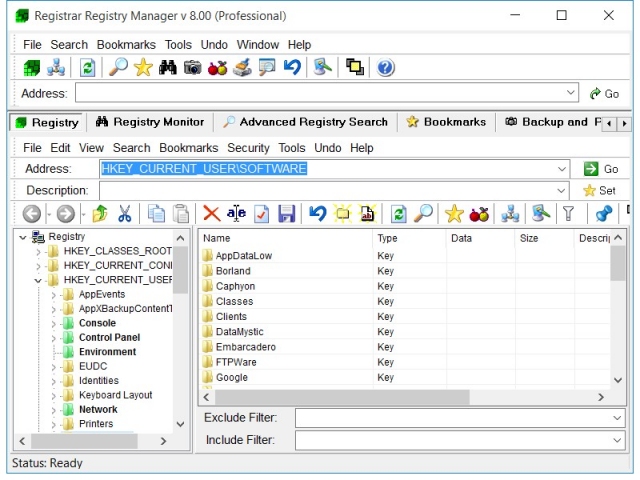 Description
Registrar Registry Manager is a complete registry management solution with a wealth of powerful features. It is intended as a complete and safe solution for administrators and power users for maintaining the registry on both the desktop as well as remote computers on the network.

It offers the benefit of a one-stop registry management solution, a very rich set of tools which replaces a large range of separate utilities. It is safer than Regedit, the native Windows registry editor as this software offers registry backup and restore features as well as multilevel undo.

The built-in registry file editor allows you to edit registry files on disk such as those which make up the systems registry image so you can use it to recover and repair broken Windows installations which may be even unbootable due to registry errors. This feature has been a life saver to many system administrators.

Other features include fast registry background search with replace, delete and export options, detailed registry monitor which monitors registry operations by the system and other applications, a bookmark editor with descriptions, categories and key coloring, an advanced
registry compare tool, a CLSID lookup utility and detailed property pages.

Registrar also offers a registry defragmenter and several tools to clean out the registry so you can keep your computer running smoothly. If used with common sense, the registry file reference editor can be a great tool for cleaning your registry from unwanted entries.

Security editors allow you to set registry key access permissions, auditing and ownership. It offers multi-level undo so all registry changes can be individually undone.

The program comes in an attractive explorer-style interface which is highly customizable.
tabbed docking interface
inclusion/exclusion filters
Scanned & Checked: Jul 18 2012 01:09 PM
When we last updated Registrar Registry Manager, we scanned it using VirusTotal and checked the developers site was not listed negatively with any of the reputable site advisory sites such as WOT or SiteAdvisor. We pride ourselves on safe downloads from honest and trustworthy developers and this free software download passed our test.
Currently you cannot add comments. You need to be a Verified Member to do this.
Once you are verified, you also have all advertisements removed from your view, can change your profile, add a signature and participate in all area's of our forums.
Become a Verified Member today for only £1 per year
and help support the safest download site on the net!
10,081

Total Files

177

Unique Submitters

1,437,962

Total Downloads
13 user(s) are online (in the past 15 minutes)
0 members, 10 guests, 0 anonymous users
Google (2), Bing (1)
Registrar Registry Manager