Don
admin
View other files from this member
Submitted: Apr 25 2010 12:05 PM
Last Updated: Sep 03 2012 06:58 AM
File Size: 64.54KB
Views: 1137
Downloads: 132
Will Run On: XP/Vista/7 (32/64-Bit)
Author's Site: Developers Homepage
License: Info Not Available
Don 2.82
2 Votes
0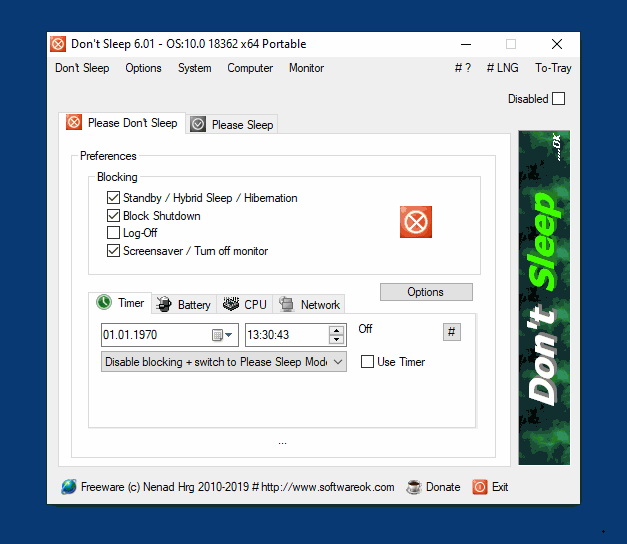 Description
Don't Sleep is a small portable program to prevent system shutdown,
Standby, Hibernate, Turn Off and Restart.

Especially when old Programs run on Windows-7 or Windows Vista.
Here's more aggressive power-saving features with new rules.

But not only that, it also prevents loggin off the computer, and the deactivation of the monitor or activation of the screen saver.

Of course you can also manually disable all the options and then activate again,
but with Don't Sleep one can save now many hand moves and also save time! And it's easier than ever.

Apart from the fact Don't Sleep has a timer that allows
time control unblock, or shutdown the computer for a specified time.

Don't Sleep does not have to be installed and can be executed easily from the desktop, and can be carried on a small usb-stick or other memory device.
And again improvements and adjustments for the new Windows 8 and tests at Windows 8 Release Preview.
Scanned & Checked: Sep 03 2012 06:58 AM
When we last scanned Don using VirusTotal we found no problems with the download and their website was not listed negatively with any of the reputable site advisory sites such as WOT or SiteAdvisor. We pride ourselves on safe downloads from honest and trustworthy developers and this free software download passed our tests.

Please be aware of the last scan date above and use caution if this date was some time ago.
Currently you cannot add comments. You need to be a Verified Member to do this.
Once you are verified, you also have all advertisements removed from your view, can change your profile, add a signature and participate in all area's of our forums.
Become a Verified Member today for only £1 per year
and help support the safest download site on the net!
10,112

Total Files

183

Unique Submitters

1,504,239

Total Downloads
4 user(s) are online (in the past 15 minutes)
0 members, 4 guests, 0 anonymous users
Don