FreewareBB
marko
View other files from this member
Submitted: Nov 04 2008 10:22 PM
Last Updated: Oct 22 2012 12:53 PM
File Size: 191.12K
Views: 1384
Downloads: 116
Will Run On: XP/Vista/7
Author's Site: Click Here
License: Info Not Available
SkypeLogView 1.42
1 Votes
0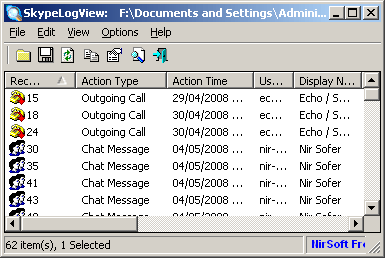 Publishers Description
SkypeLogView reads the log files created by Skype application, and displays the details of incoming/outgoing calls, chat messages, and file transfers made by the specified Skype account. You can select one or more items from the logs list, and then copy them to the clipboard, or export them into text/html/csv/xml file.
Fixed bug: SkypeLogView crashed when exporting long chat message to html file.
Fixed issue: The properties and the other windows opened in the wrong monitor, on multi-monitors system.
Scanned & Checked: Oct 22 2012 12:53 PM
When we last updated SkypeLogView we scanned it using VirusTotal and checked the developers site was not listed negatively with any of the reputable site advisory sites such as WOT or SiteAdvisor. We pride ourselves on safe downloads from honest and trustworthy developers
10,107

Total Files

170

Unique Submitters

1,219,184

Total Downloads
8 user(s) are online (in the past 15 minutes)
0 members, 5 guests, 0 anonymous users
Bing (3)
SkypeLogView