marko
View other files from this member
Submitted: Mar 28 2008 04:32 PM
Last Updated: Feb 19 2013 09:58 AM
File Size: 66.56KB
Views: 1485
Downloads: 98
Will Run On: XP/Vista/7
Author's Site: Developers Homepage
License: Info Not Available
RegDllView 1.46
1 Votes
0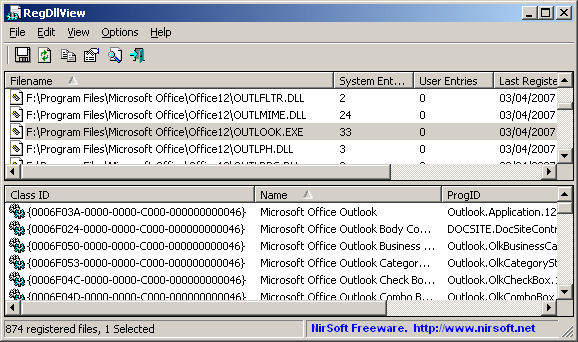 Publishers Description
RegDllView is a small utility that displays the list of all registered dll/ocx/exe files (COM registration). For each registered file, you can view the last date/time that it was registered, and the list of all registration entries (CLSID/ProgID).
Fixed issue: The properties dialog-box and other windows opened in the wrong monitor, on multi-monitors system.
Screenshots
Scanned & Checked: Feb 19 2013 09:58 AM
When we last updated RegDllView, we scanned it using VirusTotal and checked the developers site was not listed negatively with any of the reputable site advisory sites such as WOT or SiteAdvisor. We pride ourselves on safe downloads from honest and trustworthy developers and this free software download passed our test.
10,060

Total Files

175

Unique Submitters

1,375,269

Total Downloads
14 user(s) are online (in the past 15 minutes)
0 members, 12 guests, 0 anonymous users
Google (1), Bing (1)
RegDllView