marko
View other files from this member
Submitted: Feb 12 2008 12:22 AM
Last Updated: Jun 26 2013 10:07 AM
File Size: 260.15KB
Views: 1719
Downloads: 143
Will Run On: XP/Vista/7 (32/64-Bit)
Author's Site: Developers Homepage
License: Info Not Available
ProcessKO 3.00
1 Votes
0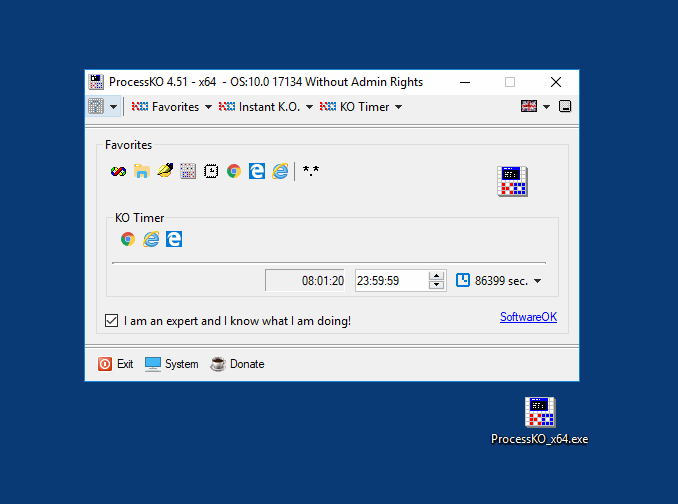 Publishers Description
ProcessKO is for professionals and experienced users, with very good PC know-how (knowledge) !
ProcessKO is a small useful tool to quickly kill a running or hanging process / program.
It is not uncommon among developers or program-testers that the programs do not function properly
or that you can not even close the programs (using the Taskmanager)
usually its always the same candidates.
Creating "Dearest-KO's" for fast killing processes or programs!
One knows this problem, especilly as developers / betatester:
When a program freezes,than you call the task manager CTRL+ALT+DEL , and find that frozen program
then you have to find and select the option "End Process",
and finally you have to confirm the message, "Are you sure you want to terminate the process" with "yes".
One can save many hand moves and also time !
Now it's easier then ever!...
With ProcessKO it goes faster and the program can also be restarts from there.
ProcessKO does not have to be installed and can be executed easily from the desktop.
It's one smal / portable utility for Windows PC-s and is a small usb-stick friend
Improvements and adjustments for x64 OS and Windows 8
Scanned & Checked: Jun 26 2013 10:07 AM
When we last updated ProcessKO, we scanned it using VirusTotal and checked the developers site was not listed negatively with any of the reputable site advisory sites such as WOT or SiteAdvisor. We pride ourselves on safe downloads from honest and trustworthy developers and this free software download passed our test.
10,059

Total Files

175

Unique Submitters

1,375,624

Total Downloads
6 user(s) are online (in the past 15 minutes)
0 members, 5 guests, 0 anonymous users
Yahoo (1)
ProcessKO