FreewareBB
marko
View other files from this member
Submitted: Feb 05 2008 09:26 PM
Last Updated: Apr 13 2013 12:03 PM
File Size: 18.47MB
Views: 1771
Downloads: 187
Will Run On: XP/Vista/7 (32/64-Bit)
Author's Site: Click Here
License: Info Not Available
Advanced Renamer 3.56
3 Votes (You voted 3)
0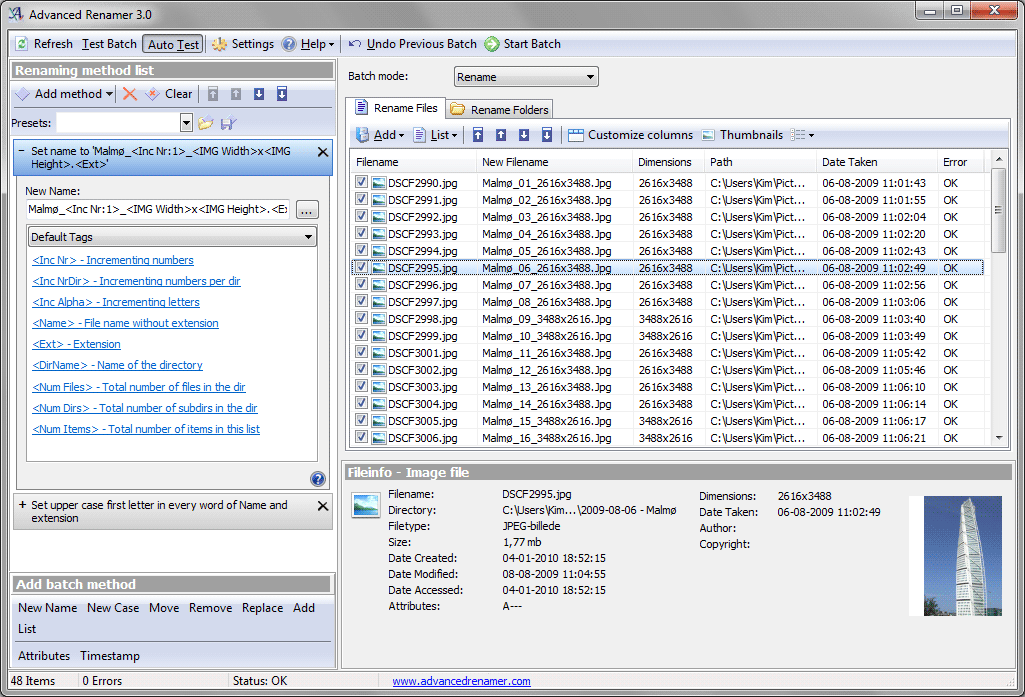 Publishers Description
For more than 10 years Advanced Renamer has been a powerful batch rename utility. It enabled you to perform renaming of multiple files by configuring a set of rules. Tags are used to import music, image, or other information from the files and use them in the new file names.
This program makes it easy to set up an advanced batch job using multiple methods on a large group of files. The eight different methods makes it easy for you to change the names, attributes and timestamps of files in one go.
With Advanced Renamer you can construct new file names by adding, removing, replacing, changing case, or giving the file a brand new name based on known information from the file.
This program is a good tool for reorganising digital photos for both experienced users and beginners. Use thumbnail mode to display thumbnails directly in the file list for more control of the renaming process. With this application you can rename all your photos and image files in a snap.
If your MP3 files have messed up names you can use Advanced Renamer to make the names more readable by using ID3 tags in the file names.
Features
Unicode
Undo functionality
Real time preview of renamed file names
Regular Expressions
MP3/ID3 naming
Image and photo renaming with EXIF support
Video file support
Thumbnail view
Supports both files and folders
Several renaming methods
Use multiple methods at once
Tag rename
Copy and move batch mode
Scripting support with Javascript
Language support (English, Danish, Finnish, Chinese, German, Polish, Turkish, Russian, Spanish, Italian, Swedish)
Optimized scripting speed and memory use
Won´t analyze files for image data until actually needed. Will improve performance of adding files
Fixed bug where name collision rule wasn't showing on low screen resolutions
Fixed display of ampersand in method descriptions
Trim non-numeric values from ID3 track numbers
Improved use of ExifTool when working with many files
Scanned & Checked: Apr 13 2013 12:03 PM
When we last updated Advanced Renamer, we scanned it using VirusTotal and checked the developers site was not listed negatively with any of the reputable site advisory sites such as WOT or SiteAdvisor. We pride ourselves on safe downloads from honest and trustworthy developers and this free software download passed our test.
10,039

Total Files

175

Unique Submitters

1,320,101

Total Downloads
6 user(s) are online (in the past 15 minutes)
0 members, 5 guests, 0 anonymous users
Bing (1)
Advanced Renamer