marko
View other files from this member
Submitted: Jan 21 2008 10:17 PM
Last Updated: Apr 05 2013 02:53 PM
File Size: 79.63KB
Views: 1994
Downloads: 182
Will Run On: XP/Vista/7/8 (32/64-Bit)
Author's Site: Developers Homepage
License: Info Not Available
CurrPorts 2.07
1 Votes
0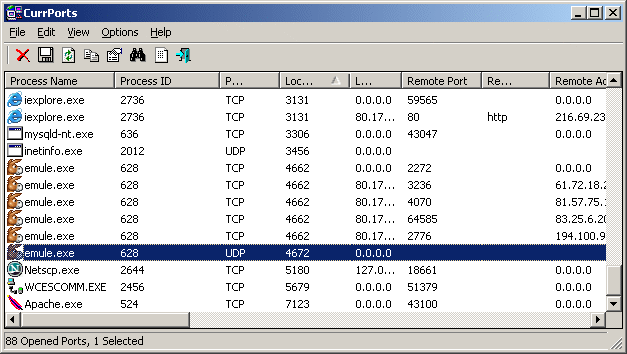 Publishers Description
CurrPorts displays the list of all currently opened TCP/IP and UDP ports on your local computer. For each port in the list, information about the process that opened the port is also displayed, including the process name, full path of the process, version information of the process (product name, file description, and so on), the time that the process was created, and the user that created it.

In addition, CurrPorts allows you to close unwanted TCP connections, kill the process that opened the ports, and save the TCP/UDP ports information to HTML file , XML file, or to tab-delimited text file.
CurrPorts also automatically mark with pink color suspicious TCP/UDP ports owned by unidentified applications (Applications without version information and icons)
Fixed the flickering on automatic refresh.
Scanned & Checked: Apr 05 2013 02:53 PM
When we last updated CurrPorts, we scanned it using VirusTotal and checked the developers site was not listed negatively with any of the reputable site advisory sites such as WOT or SiteAdvisor. We pride ourselves on safe downloads from honest and trustworthy developers and this free software download passed our test.
10,058

Total Files

175

Unique Submitters

1,375,632

Total Downloads
13 user(s) are online (in the past 15 minutes)
0 members, 11 guests, 0 anonymous users
Yahoo (1), Bing (1)
CurrPorts