SniffPass
admin
View other files from this member
Submitted: Dec 17 2007 06:19 PM
Last Updated: Aug 13 2012 05:43 PM
File Size: 63.3KB
Views: 1309
Downloads: 121
Will Run On: 2000/7 x32/7 x64/98/Vista/Vista x64/XP
Author's Site: Developers Homepage
SniffPass 1.13
2 Votes (You voted 3)
0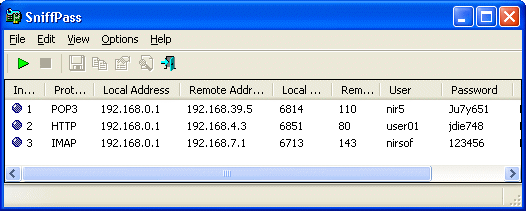 Description
SniffPass is small utility that listens to your network, capture the passwords that pass through your network adapter, and display them on the screen instantly. SniffPass can capture the passwords of the following Protocols: POP3, IMAP4, SMTP, FTP, and HTTP (basic authentication passwords).
You can use this utility to recover lost Web/FTP/Email passwords.
Scanned & Checked: Aug 13 2012 05:43 PM
When we last scanned SniffPass using VirusTotal we found no problems with the download and their website was not listed negatively with any of the reputable site advisory sites such as WOT or SiteAdvisor. We pride ourselves on safe downloads from honest and trustworthy developers and this free software download passed our tests.

Please be aware of the last scan date above and use caution if this date was some time ago.
Currently you cannot add comments. You need to be a Verified Member to do this.
Once you are verified, you also have all advertisements removed from your view, can change your profile, add a signature and participate in all area's of our forums.
Become a Verified Member today for only £1 per year
and help support the safest download site on the net!
10,112

Total Files

183

Unique Submitters

1,504,835

Total Downloads
9 user(s) are online (in the past 15 minutes)
0 members, 8 guests, 0 anonymous users
Yahoo (1)
SniffPass