marko
View other files from this member
Submitted: Aug 20 2012 02:13 PM
Last Updated: Aug 20 2012 02:13 PM
File Size: 2.65MB
Views: 524
Downloads: 29
Will Run On: XP/Vista/7
Author's Site: Developers Homepage
License: Info Not Available
DeepSound 1.3
0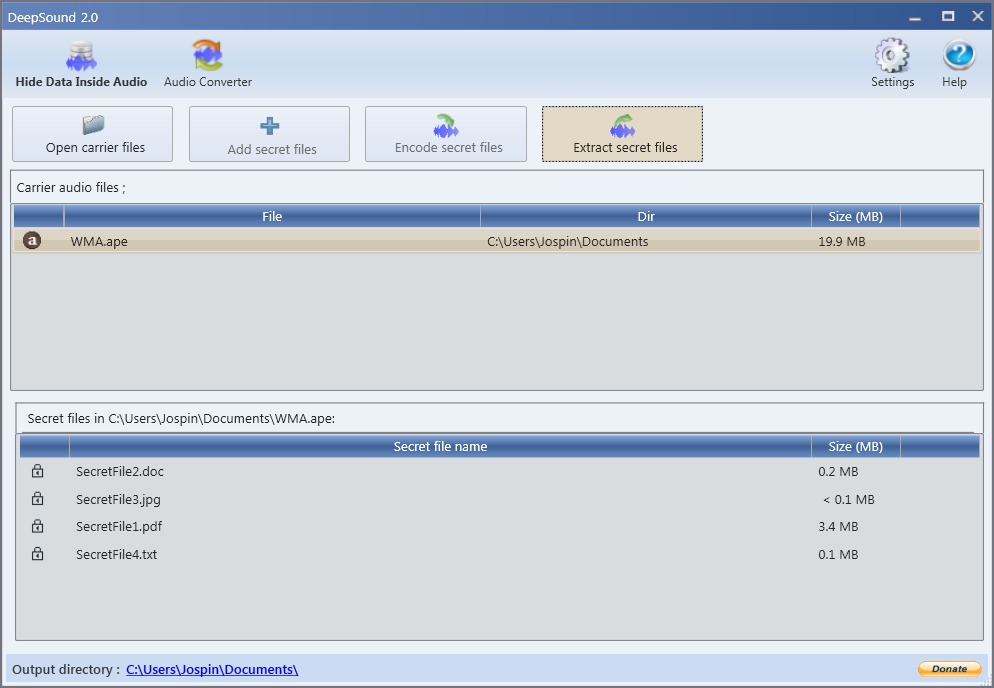 Publishers Description
DeepSound is a steganography tool that hides secret data into audio files - wave and flac. The application also enables you to extract secret files directly from audio CD tracks.

DeepSound might be used as a copyright marking software for wave, flac and audio CD. DeepSound also supports encrypting secret files using AES-256(Advanced Encryption Standard) to improve data protection.
Screenshots
Scanned & Checked: Aug 20 2012 02:13 PM
When we last updated DeepSound, we scanned it using VirusTotal and checked the developers site was not listed negatively with any of the reputable site advisory sites such as WOT or SiteAdvisor. We pride ourselves on safe downloads from honest and trustworthy developers and this free software download passed our test.
10,060

Total Files

175

Unique Submitters

1,375,256

Total Downloads
12 user(s) are online (in the past 15 minutes)
0 members, 11 guests, 0 anonymous users
Bing (1)
DeepSound