Voxal Professional Voice Change Software
admin
View other files from this member
Submitted: Jul 25 2012 10:24 AM
Last Updated: Jul 25 2012 10:24 AM
File Size: 1.32MB
Views: 682
Downloads: 103
Will Run On: 7 x32/7 x64/Vista/Vista x64/XP
Author's Site: Developers Homepage
License: Info Not Available
Voxal Professional Voice Change Software 0.91
1 Votes
0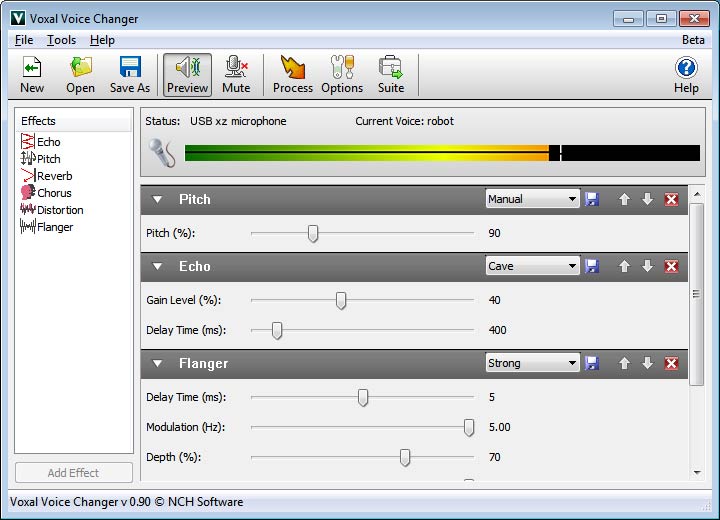 Description
Voxal is free voice changer software to edit voice recordings on a Windows PC. Voxal can be used to add effects to a recording as well as intercept and add change audio as it comes into your microphone for voice changing on the fly.
Features
Edit voice recordings for voice overs and other kinds of projects
Change recordings to use for online video games
Disguise your voice to stay anonymous while online or on the radio
Small download size can have you up and running in no time
Make changes to audio files that have been previously created and stored on your system
Add effects to microphone input in real time
Use effect chains for voice modification
Easy to understand user interface
Directly output edits to the speakers to hear changes as they happen
Scanned & Checked: Jul 25 2012 10:24 AM
When we last scanned Voxal Professional Voice Change Software using VirusTotal we found no problems with the download and their website was not listed negatively with any of the reputable site advisory sites such as WOT or SiteAdvisor. We pride ourselves on safe downloads from honest and trustworthy developers and this free software download passed our tests.

Please be aware of the last scan date above and use caution if this date was some time ago.
Currently you cannot add comments. You need to be a Verified Member to do this.
Once you are verified, you also have all advertisements removed from your view, can change your profile, add a signature and participate in all area's of our forums.
Become a Verified Member today for only £1 per year
and help support the safest download site on the net!
10,112

Total Files

183

Unique Submitters

1,504,784

Total Downloads
11 user(s) are online (in the past 15 minutes)
0 members, 10 guests, 0 anonymous users
Google (1)
Voxal Professional Voice Change Software