IP Camera Viewer
admin
View other files from this member
Submitted: Apr 04 2012 02:16 PM
Last Updated: May 11 2013 07:58 AM
File Size: 5.88MB
Views: 867
Downloads: 92
Will Run On: XP/Vista/7
Author's Site: Developers Homepage
License: Info Not Available
IP Camera Viewer 1.25
1 Votes
0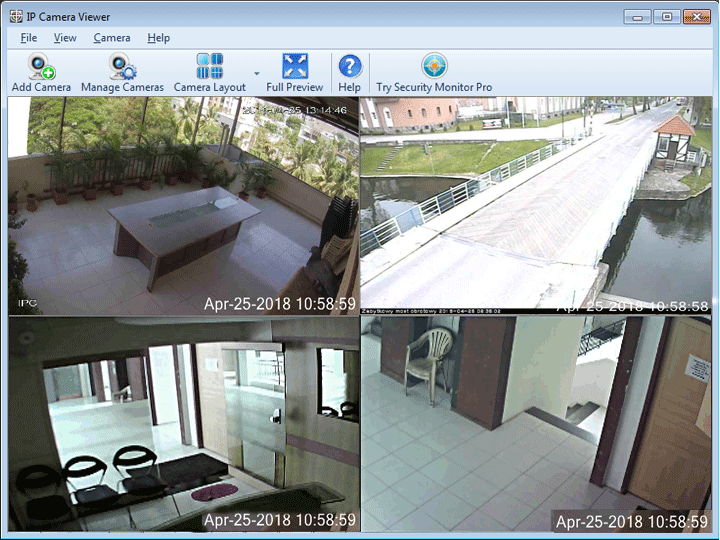 Description
Set up a FREE IP camera monitoring system within minutes! IP Camera Viewer is an alternative to the flimsy software that is shipped with most network IP cameras. Keep an eye on your home, office, parking area or anywhere you have a IP camera.

View video from multiple cameras simultaneously. More than 1500 different IP camera models are supported including Axis, Canon, Cisco, D-Link, Foscam, Linksys, Mobotix, Panasonic, Pixord, Sony, Toshiba, Vivotek and many more. Virtually all USB cameras work with IP Camera Viewer.

IP Camera Viewer allows you to individually configure video properties such as the resolution and frame rate for each camera. You can also set image properties such as saturation, brightness, contrast for USB and IP Cameras. Arrange multiple IP cameras in the preview layout you want.

What if your camera is mounted upside-down or its preview is tilted a bit? With IP Camera Viewer you can adjust the orientation of your camera preview. You can also adjust the coverage area with support for PTZ (Pan/Tilt/Zoom) enabled network cameras. IP Camera Viewer lets you digitally zoom on an image, even if your camera doesn't support zoom.

IP Camera Viewer is absolutely FREE and ideal for both personal and business purposes!
Scanned & Checked: May 11 2013 07:58 AM
When we last scanned IP Camera Viewer using VirusTotal we found no problems with the download and their website was not listed negatively with any of the reputable site advisory sites such as WOT or SiteAdvisor. We pride ourselves on safe downloads from honest and trustworthy developers and this free software download passed our tests.

Please be aware of the last scan date above and use caution if this date was some time ago.
Currently you cannot add comments. You need to be a Verified Member to do this.
Once you are verified, you also have all advertisements removed from your view, can change your profile, add a signature and participate in all area's of our forums.
Become a Verified Member today for only £1 per year
and help support the safest download site on the net!
10,112

Total Files

183

Unique Submitters

1,504,264

Total Downloads
10 user(s) are online (in the past 15 minutes)
0 members, 7 guests, 0 anonymous users
Yahoo (1), Bing (2)
IP Camera Viewer