NonCompressibleFiles
admin
View other files from this member
Submitted: Mar 30 2012 01:14 PM
Last Updated: Aug 22 2012 05:11 PM
File Size: 256.98KB
Views: 373
Downloads: 96
Will Run On: 2000/7 x32/7 x64/98/Other/Server/Vista/Vista x64/XP
Author's Site: Developers Homepage
License: Info Not Available
NonCompressibleFiles 2.01
1 Votes
0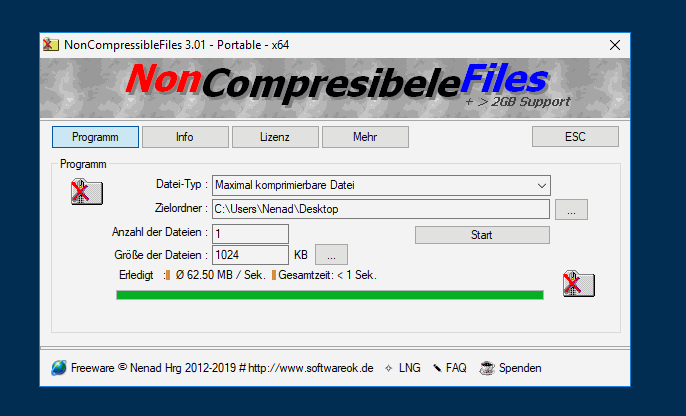 Description
NonCompressibleFiles is a small portable program that allows you to create on the fly one or more non-compressible files, or maximum compressible files.
The purpose of the program is that you can do various tests with these files, such as to test compression programs on their performance, or other programs, such as FTP programs to determine when the transmission of the data is compressed or not, or test the behavior of several files.
Similarly, solid state drives, where data is compressed to increase performance.
With this program you can create thousands of files to test the behavior of programs or hardware (eg pci-e ssd) in multiple files test.
Features
Very small program
User-definable number of files
Adjustable size of files
Creation of non-compressible files
Creation of maximum compressible files (zero files)
Portable
Low CPU usage
Optional translation function
NonCompressibleFiles does not require installation, can easily be launched from the desktop with no installation and is ready to use on all Windows operating systems.
X64 version for 64-bit operating systems Windows XP, Vista , Seven, Eight...
General optimization and "Non Compressible Files" language files update.
Scanned & Checked: Aug 22 2012 05:11 PM
When we last scanned NonCompressibleFiles using VirusTotal we found no problems with the download and their website was not listed negatively with any of the reputable site advisory sites such as WOT or SiteAdvisor. We pride ourselves on safe downloads from honest and trustworthy developers and this free software download passed our tests.

Please be aware of the last scan date above and use caution if this date was some time ago.
Currently you cannot add comments. You need to be a Verified Member to do this.
Once you are verified, you also have all advertisements removed from your view, can change your profile, add a signature and participate in all area's of our forums.
Become a Verified Member today for only £1 per year
and help support the safest download site on the net!
10,112

Total Files

183

Unique Submitters

1,503,985

Total Downloads
4 user(s) are online (in the past 15 minutes)
0 members, 2 guests, 0 anonymous users
Bing (1), Yahoo (1)
NonCompressibleFiles