NetworkTrafficView
admin
View other files from this member
Submitted: Sep 12 2011 07:08 AM
Last Updated: Aug 12 2014 08:36 AM
File Size: 101.2KB
Views: 1024
Downloads: 74
Will Run On: XP/Vista/7
Author's Site: Developers Homepage
License: Info Not Available
NetworkTrafficView 1.86
2 Votes
0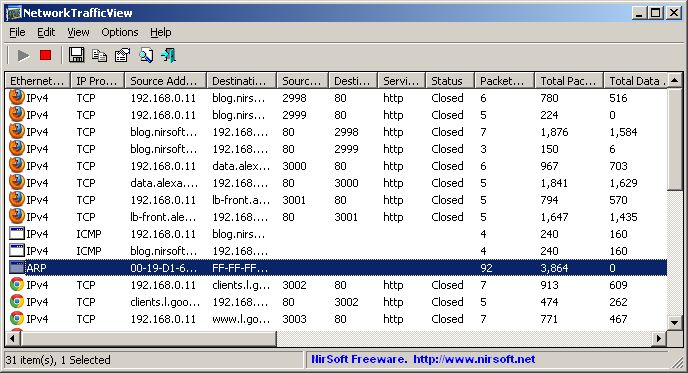 Description
NetworkTrafficView is a network monitoring tool that captures the packets pass through your network adapter, and displays general statistics about your network traffic.
 
The packets statistics is grouped by the Ethernet Type, IP Protocol, Source/Destination Addresses, and Source/Destination ports. For every statistics line, the following information is displayed: Ethernet Type (IPv4, IPv6, ARP), IP Protocol (TCP, UDP, ICMP), Source Address, Destination Address, Source Port, Destination Port, Service Name (http, ftp, and so on), Packets Count, Total Packets Size, Total Data Size, Data Speed, Maximum Data Speed, Average Packet Size, First/Last Packet Time, Duration, and process ID/Name (For TCP connections).
Added secondary sorting support: You can now get a secondary sorting, by holding down the shift key while clicking the column header. Be aware that you only have to hold down the shift key when clicking the second/third/fourth column. To sort the first column you should not hold down the Shift key
Scanned & Checked: Aug 12 2014 08:36 AM
When we last scanned NetworkTrafficView using VirusTotal we found no problems with the download and their website was not listed negatively with any of the reputable site advisory sites such as WOT or SiteAdvisor. We pride ourselves on safe downloads from honest and trustworthy developers and this free software download passed our tests.

Please be aware of the last scan date above and use caution if this date was some time ago.
Currently you cannot add comments. You need to be a Verified Member to do this.
Once you are verified, you also have all advertisements removed from your view, can change your profile, add a signature and participate in all area's of our forums.
Become a Verified Member today for only £1 per year
and help support the safest download site on the net!
10,112

Total Files

183

Unique Submitters

1,504,207

Total Downloads
12 user(s) are online (in the past 15 minutes)
0 members, 5 guests, 0 anonymous users
Bing (6), Google (1)
NetworkTrafficView