marko
View other files from this member
Submitted: Feb 16 2011 08:49 PM
Last Updated: Jul 16 2012 08:15 AM
File Size: 63.48KB
Views: 922
Downloads: 67
Will Run On: 2000/7 x32/7 x64/Vista/Vista x64/XP
Author's Site: Developers Homepage
License: Info Not Available
DriveLetterView 1.20
1 Votes
0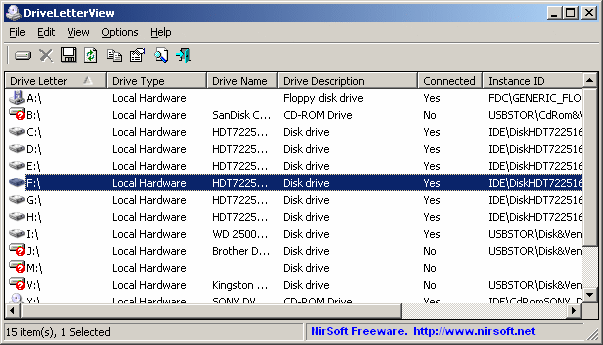 Publishers Description
DriveLetterView is a simple utility that allows you to view the list of all drive letter assignments in your system, including local drives, remote network drives, CD/DVD drives, and USB drives - even if they are not currently plugged. It also allows you to easily change a drive letter of USB devices and remote network shares, as well as to delete a drive letter of USB device that is not plugged. You can also use DriveLetterView to export the list of all drives into text/csv/html/xml file.
Added 'Speed Test' option, which allows you to test the read/write speed of your drive
Scanned & Checked: Jul 16 2012 08:15 AM
When we last updated DriveLetterView, we scanned it using VirusTotal and checked the developers site was not listed negatively with any of the reputable site advisory sites such as WOT or SiteAdvisor. We pride ourselves on safe downloads from honest and trustworthy developers and this free software download passed our test.
10,061

Total Files

175

Unique Submitters

1,375,709

Total Downloads
11 user(s) are online (in the past 15 minutes)
1 members, 6 guests, 0 anonymous users
Google (1), JoeBlack40, Facebook (1), Bing (1), Yahoo (1)
DriveLetterView